Barebones Overview
Jump to navigation
Jump to search
A Pre-Configured Image for The Sinden Lightgun on the Raspberry Pi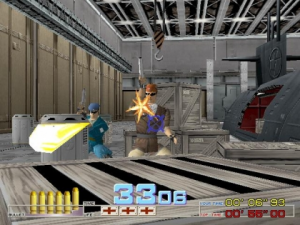 What Is BareBones?
BareBones is an image for the raspberry pi4/400 that contains:
RetroPie V4.8.2 (RPI 4/400)
Mixed input mode support (Lightgun and Non-Lightgun games)
Latest 1.8 Sinden Software
A fix to 1.10 Retroarch Y-axis bug along with fullscreen border
Lightgun Game configs (with bezels and pedal support) for all known-working games
Generic bezels for non-lighgun games, including some dynamic bezels.
Sinden Lightgun scripts streamlined (start / stop all, arcade removed) w/ new calibration screen
Supermodel3 lightgun scripts
32bit overlays added to Hypseus
Added Emulator support (LR-MAME, LR-MAME 2010/2015, and more)
StormedBubbles versions of mame emulators featuring quality-of-life hacks and fixes for many games
Exclusive Golly Ghost scoreboard for 16:9 screens
And much more!
3DO, NES, SNES, PS1, Genesis, Sega CD, Mastersystem, Dreamcast, Naomi, Atomiswave, Hypseus-Singe, SuperModel, PnP, DS, C64, Tic-80, lr-FBNeo, lr-mame2003-plus, lr-mame and more are setup ready to go!
Check the Compatibility List for list of all supported systems and information on what romsets and other files are recommended.
Who is making BareBones images?
BB1-7 original creator: HarryDog "I am a hobbyist retro gaming enthusiast from the UK. Fuelled by beer and tea I am striving to get as many retro lightgun games as I can running on the Raspberry Pi."
BB8 creators: cheeky8555, LutherGond, prince_rakeem, wiggy808
BB9 creators: Widge, LuthorGond(StormedBubbles)
Can I support the project?
Yeah you can! Throw some cash in the tip jar. Donations are given to the active Barebones creators that are continuously working to make the image better and more compatible for the community!