Sinden Wiki
Jump to navigation
Jump to search
Welcome to the Sinden Wiki
This wiki exists due to all the hard work a group of Sinden lightgun users have put in to making lightgun gaming easier for their fellow lightgun users.
If you haven't picked up a Sinden lightgun yet, make sure to check out the official Sinden website where you can purchase a modern lightgun that works directly with newer LCD television screens and doesn't require any additional hardware, such as sensor bars, to function. Instead it uses a software generated border, read by the gun's camera to determine where you are aiming during gameplay.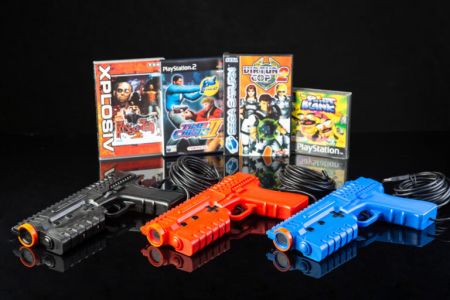 Who we are
This wiki is maintained by fellow lightgun enthusiasts and has been created by users for users. Andy Sinden has provided some resources to help sort out certain issues; however, this wiki isn't maintained by him or his staff and is created by volunteers like you.
If you want to request an account to contribute to the wiki, visit the Sinden Discord, and make a request in the #wiki-development channel.
If you want to help with this wiki or discuss an issue you're having, check out the super-friendly people in the Sinden Discord. It's run by many of the same volunteers who've created this wiki and contains tons of tips and tricks, plus mods and 3D prints you can use to make your lightgun experience even better.
Classic games you can play with a lightgun
Lightgun games have existed since the early 80's, and today there are many lightgun-compatible games available to us.
These include:

What systems can you play on
Currently, Sindens work well on Computers running Windows, Raspberry Pi single-board computers (we provide an image for the Pi called BareBones) and Linux.
Lightgun compatibility has also been added to Batocera, and with proper adapters, lightguns can even work on the original PlayStation 2, with hopefully support for more original consoles added in the future.
Start Here
Just purchased or received your new lightgun and wondering where to start? This is the area for you:
Ideally, most users want to test and configure their lightguns on a Windows PC first. It is the platform with the most support and the newest software and is likely the easiest to set up and diagnose any issues you might be having.
Of course, if you're heading directly to a Pi or a console, we also have you covered.
If you're already set up and having issues, check out the Troubleshooting section.
Take a look at your options below, and remember that you can access all the areas of this wiki from the menu options on the left of the screen.
Windows
Pi & Linux/Unix
Console
Use-Case Specific